What you will learn Today
How to earn money online with cryptocurrency
How to earn passive income online
What are crypto dividends
A much higher ROI on your Investment
Why are Crypto Dividends Better than Stock Dividends?
Many people invest in dividend-paying stocks. They also take the earnings and reinvest in additional stocks. However, there is a catch. There is no guarantee that a company that is doing well, is going to pay out any dividends to it's investors.
When a dividend is payed there is often a change to the price of the security.
Here is an example using Apple Stock and trying to earn minimum wage with just dividends:
Here's how we did the math. First, we took the minimum wage of California, Apple's home state, which is 8 dollars an hour. For a 40 hour work day that takes place over an average of 22 work days per month, the average Californian minimum wage employee makes $1408 a month, before taxes. Since Apple pays the $2.65 dividend quarterly, we multiplied $1408 by three months, giving us a quarterly minimum wage earnings of $4224.

So how many shares of Apple stock would you need to earn $4,224 in dividends per quarter? 1,594 shares paying a $2.65 dividend every three months.

And how much does 1,594 shares of Apple stock cost? At writing, the value of one share of AAPL costs $598.35; 1,594 shares would cost you $953,747.32 on the market.

Got that? To earn minimum wage on the new Apple dividend, you need to own almost a million dollars in Apple stock. source: cultofmac.com
This is why cryptocurrency dividends are so much better. You do not need to rely on the goodwill of a company. Dividends are payed out based on code.
Earning passive income with NEO
Example 1:  Let's take a look at NEO and how much NEO we need to earn 1400$ per month: (NEO: 51$ ; GAS: 16.14$)
You would need 10,000 NEO/S (= $510,671.00)
THEORY CALCULATION
| Time | USD |
| --- | --- |
| Per Day | $65.1 |
| Per Week | $455.6 |
| Per Month | $2,017.7 |
| Per Year | $23,757.0 |
Theory dividend: 4.65%
ACTUAL CALCULATION
| Time | USD |
| --- | --- |
| Per Day | $47.0 |
| Per Week | $328.8 |
| Per Month | $1,456.2 |
| Per Year | $17,145.7 |
Actual dividend: 3.36%
Curated List of Cryptocurrencies to Earn Passive Income
I made this list with cryptocurrencies and platforms that I trust and have used before. I have never used hyip (high-yield-investment-programs) and will never promote them.
The return on investment of many of these assets depend on the value of the coin or trading volume. You will also need a good amount to get a decent sum of mouney per year. However, compared to other investment opportunities, this is much more lucrative.  I have excluded certain coins from this list as I have either not used them or do not trust their payment model.
---
NEO - The Chinese Ethereum

A while a go, I wrote a post on how to calculate your Gas reward with NEO.
An important thing to note with NEO is that you only get gas if you keep your NEO in your NEON desktop wallet on Kucoin or Binance.  Bitfinex does not pay out GAS dividends.
Another point to remember, is that NEO is not divisible. You can only send and receive a whole NEO.
Ticker: NEO | Annual Return ~5.5% | https://neotogas.com/?p=profit
Here is a guide on how to buy NEO with Binance
---
Kucoin  - The People's exchange
Kucoin is a world-class cryptocurrency exchange that was launded in mid 2017. They have been getting good traction in the last months, thanks to referral links and aggressive marketing. Similar to Binance they have their own native token called Kucoin shares.  The bonus you receive is 50% of the trading fees until April. The fees will then be adjusted to 15%.
The dividend you receive with Kucoin is based on the trading volume per day and the amount of shares you have. You can click on the image below to access a google spreadsheet Kucoin dividends calculator (credits to: iDontlikeApple)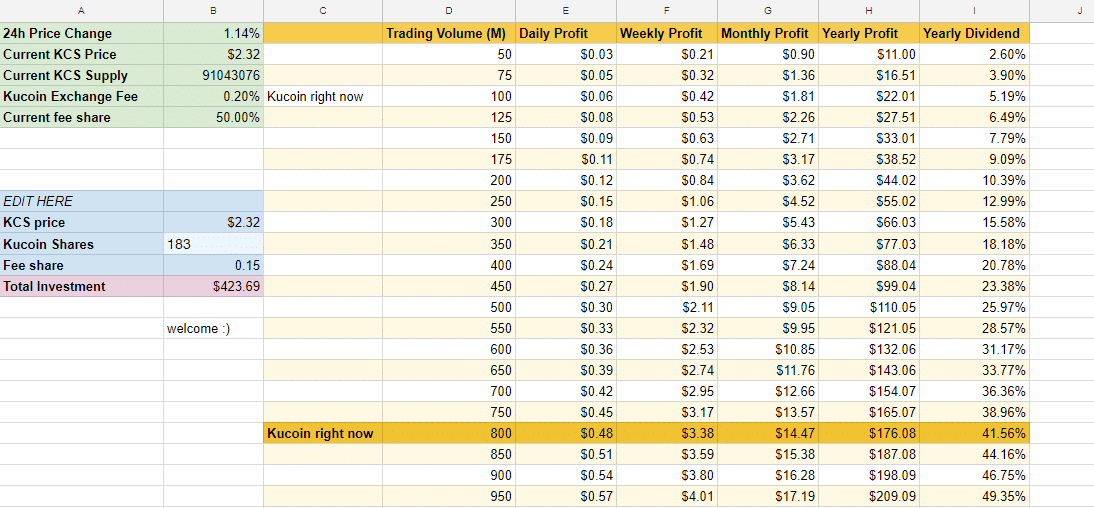 You can buy Kucoinshares on Kucoin.
Ticker: KCS | ROI: Varies according to trading volume
---
OmiseGo - direct dividends, from staking

---
ARK - direct dividends from delegates you support.

Receiving dividends from ARK is a bit more complicated. You need to select a pool. This can be done from within the ARK wallet.  A guide on how
How much will I get from voting?
How much you receive is up to the pool operators and not contingent on any rules set up by the ARK Crew. You can check sharing approximations in one of the community built calculators:
Here's the calculator: https://calculator.reconnico.com/
Ticker: ARK | ROI: Depends on the amount and the pool you chose
---
Lisk - direct dividends for voting for delegates

List makes it easy for developers to build and deploy blockchain applications in Javascript.  Here is a good website to help you learn more about earning free lisk by voting for delegates. With a balance of about 700 lisk, you will be earning approximately 6.3 lisk per month which is about [email protected]$ per lisk
Calculate your rewards using this tool: dpostools.com/lisk
Ticker: LSK | ROI: Approximately 10-15% depending on pool payout 
---
Secret Coin - Share to Access this GEM
---
Neblio ($NEBL) - direct dividends, from staking
Neblio is a blockchain platform which allows people to build decentralized applications on them. Neblio's main goal is to simplify blockchain to enable widespread enterprise adoption.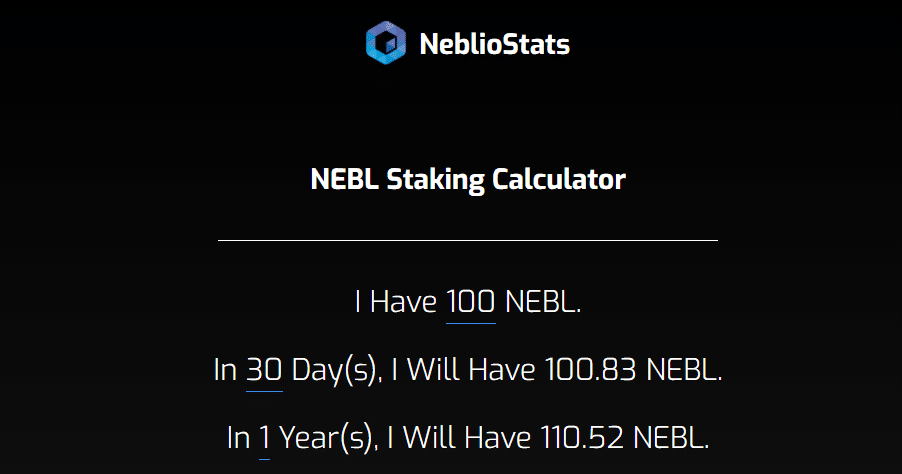 (10-15% ROI) https://nebl.io calculator: http://nebliostats.com/calculator.php
Ticker: NEBL | ROI: 10-15% per year | Get it on: Binance or Kucoin 
---
I hope you found this list useful. Always remember to use a risk/profit strategy when investing in new projects, to protect your portfolio from unexpected dips.
Hodling is not always the best option - Risk/Profit taking strategy
Have a great day : )