Getting started with my favorite indicator
I like to use the Ichimoku cloud, also known as Ichimoku kinko. It is a very powerful trading instrument. I report more about this strategy in my Ichimoku for Beginners Trading Guide.
Before you start learning how Ichimoku works, I'll show you how to set everything up in this guide. Which Ichimoku cloud settings you need for the trading view. The crypto settings are very different from the traditional Ichimoku cloud used for stocks and options.
Crypto is 24/7 365/365 – in other words, we never sleep. So we have to take that into account in the settings, because crypto has a higher speed than traditional stocks.
Tradingview is a powerful free tool with many indicators.  You can sign up for a free account here. For beginners the free account is enough. However, if you want advanced options and more notifications, you can also try the premium version for one month for free.
Here is a beginner's guide to the trading view.
So let's start with the Krypto-Ichimoku cloud settings straight away:
Trading view Ichimoku settings
Log in with your account in the trading view.
Click on "Indicators".
Search for Ichimoku cloud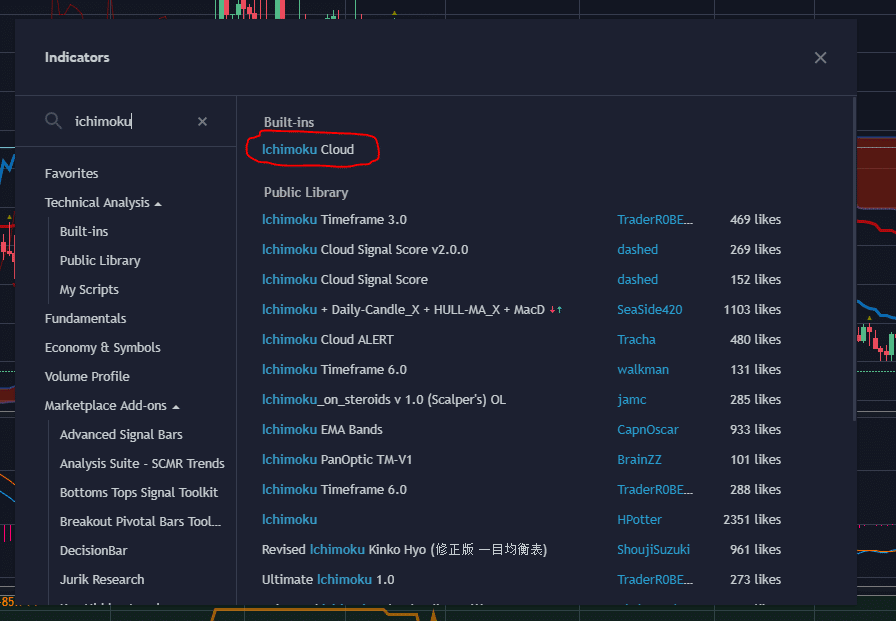 These are my personalized settings, which have worked for me well. Since I only perform technical analysis on cryptocurrency pairs, I have adjusted the input variables to reflect a 24/7 market.
Conversion line 20
Base line periods 60
Lagging Span 2 periods 120
displacement 30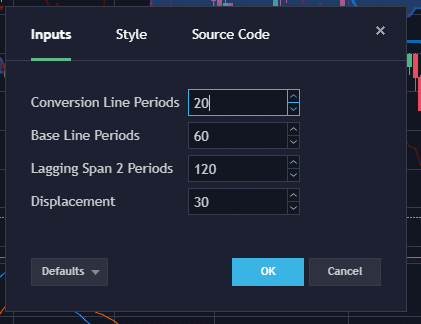 The following settings are only based on my preferences. This does not influence the calculations of the cloud.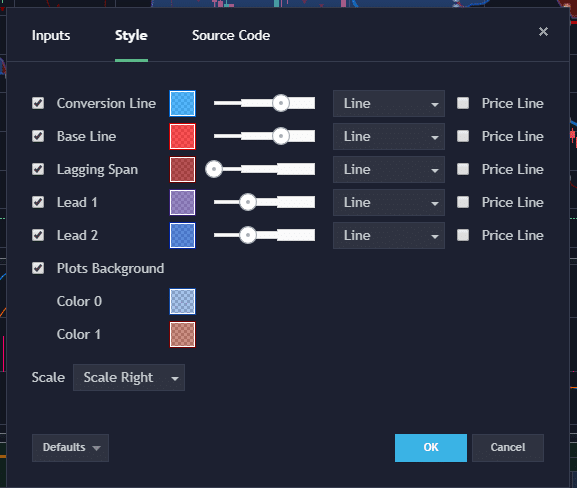 Terminology English/Japanese
Conversion Line = Tenkan-sen
Base Line =  Kijun-sen
Lagging Span  = Chikou Span
Lead 1 = Sekkou Span A
Lead 2 = Sekkou Span B
Plots Background Color 0 = Bullish Cloud Blue
Plots Background Color 1 = Bearish Cloud red
Displacement = Chikou Span/ +SenkouSpan A
Wait! There is more…
Are you interested in learning more about the ichimoku trading strategy? Yes? Then this collection of posts is for you.
Have a great day!