Der Einstieg mit meinem Lieblingsindikator
Ich benutze sehr gerne die Ichimoku-Cloud, die auch als Ichimoku-Kinko bekannt ist. Es ist ein sehr mächtiges Tradinginstrument. Ich berichte mehr über diese Strategie in meinem Ichimoku für Anfänger Trading Guide.
Bevor Sie anfangen zu lernen, wie ichimoku funktioniert, zeige ich Ihnen, wie Sie in diesem Leitfaden alles einrichten können. Welche Ichimoku-Cloud-Einstellungen Sie für die Handelsansicht benötigen. Die Kryptoeinstellungen unterscheiden sich deutlich von denen der traditionellen Ichimoku-Cloud, die für Aktien und Optionen verwendet wird.
Krypto ist 24/7 365/365 – mit anderen Worten, wir schlafen nie. Deshalb müssen wir das in den Settings berücksichtigen, da Krypto ein höheres Geschwindigkeitstempo hat als traditionelle Aktien.
Tradingview ist ein mächtiges kostenloses Tool mit vielen Indikatoren.  Du kannst dich hier für ein kostenloses Konto anmelden. Für Anfänger reicht das kostenlose Konto. Wenn Sie jedoch erweiterte Optionen und mehr Benachrichtigungen wünschen, können Sie die Premium-Version auch einen Monat lang kostenlos testen.
Hier ist ein Leitfaden für Anfänger zur Handelsansicht.
Beginnen wir also ohne weiteres mit den Krypto-Ichimoku-Cloud-Einstellungen:
Handelsansicht Ichimoku Einstellungen
Melden Sie sich mit Ihrem Konto in der Handelsansicht an.
Klicken Sie auf "Indikatoren".
Search for Ichimoku cloud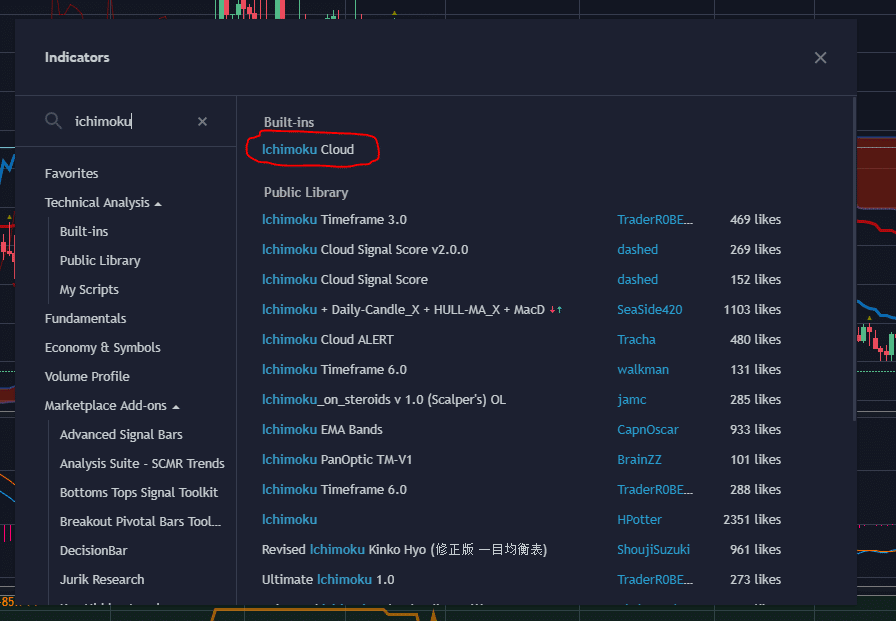 These are my personalized settings, which have worked for me well. Since I only perform technical analysis on cryptocurrency pairs, I have adjusted the input variables to reflect a 24/7 market.
Conversion line 20
Base line periods 60
Lagging Span 2 periods 120
displacement 30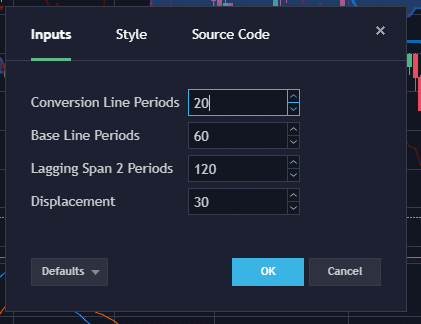 The following settings are only based on my preferences. This does not influence the calculations of the cloud.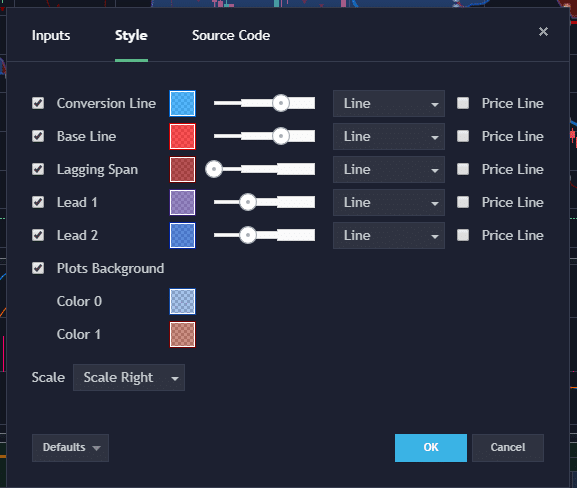 Terminology English/Japanese
Conversion Line = Tenkan-sen
Base Line =  Kijun-sen
Lagging Span  = Chikou Span
Lead 1 = Sekkou Span A
Lead 2 = Sekkou Span B
Plots Background Color 0 = Bullish Cloud Blue
Plots Background Color 1 = Bearish Cloud red
Displacement = Chikou Span/ +SenkouSpan A
Wait! There is more…
Are you interested in learning more about the ichimoku trading strategy? Yes? Then this collection of posts is for you.
Have a great day!