updated: 13.12.2019
Getting started with my favourite trading indicator
Ichimoku is my favorite indicator to use, as it allows me to have one indicator show me the past, the present and the future in one go. The ichimoku kinko hyo lets you get an incredible edge in determing the best moments to enter or exit the market. For that reason it is in your best interest to setup your tradingview account with visually pleasing settings in order to make better decission in the market. If you still do not have a tradingview account, then I highly recomment that you start with registering a free tradingview account. 
Tradingview is unique in the sense that I haven't found another platform that gathers so many traders together in one place to share their thoughts on the current state of the market. But this is not the topic of this post so let's continue with setting up the ichimoku cloud.
I recommend reading  Beginners Guide to Ichimoku Trading for Crypto 101 after this article to learn more about using the powerful ichimoku trading strategy for Cryptocurrency.
Since Cryptocurrency trading is 24/7 365/365 – never stops we need to take that into account when creating our advanced ichimoku trading strategy settings.
That is why the Ichimoku cloud settings for crypto are double the traditional ichimoku cloud settings.
Tradingview is a powerful free tool with many indicators. You can sign up for a free account here. For beginners the free account is enough. However, if you want advanced options and more notifications, you can also try the premium version for one month for free. 
The Crypto Ichimoku Settings for Tradingview
So let's get started with the ichimoku crypto cloud settings:
Then Click on "Indicators".
In the Indicators pannel you will need to search for Ichimoku Cloud (This is the standard ichimoku cloud provided by tradingview.)
There are many other publicly available ichimoku cloud settings that you can try out when you have some time. I will cover that in an other post.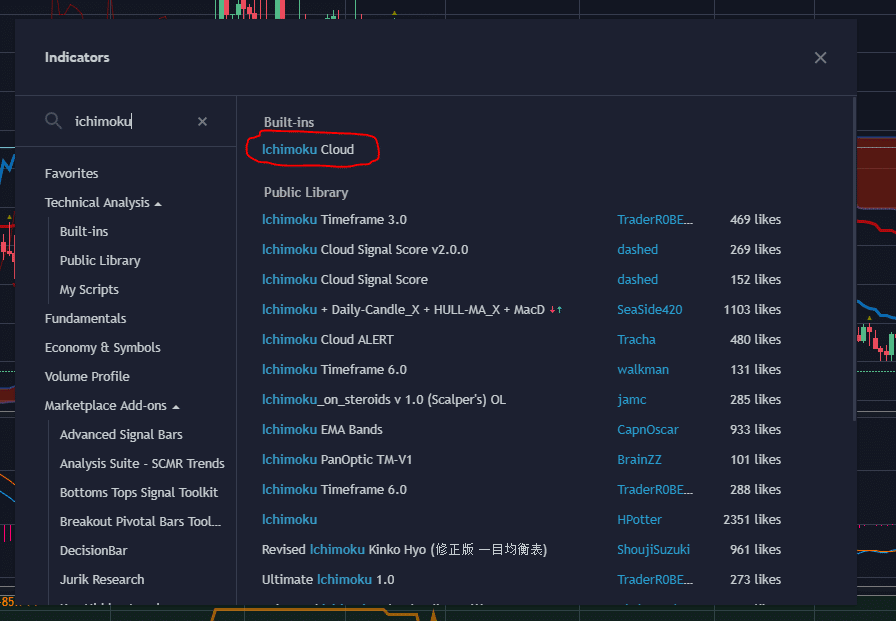 In the image below you can see the settings that I use with the ichimoku kinko hyo. These are my personalized settings that have worked really well for me during the 2017 cryptocurrency bull market.
When I am performing technical analysis on the cryptocurrency market then I will double the values as you see below. This is because the cryptocurrency market does not have a start and end time like other markets. It is non stop. We never sleep : )
Conversion line 20
Base line periods 60
Lagging Span 2 periods 120
displacement 30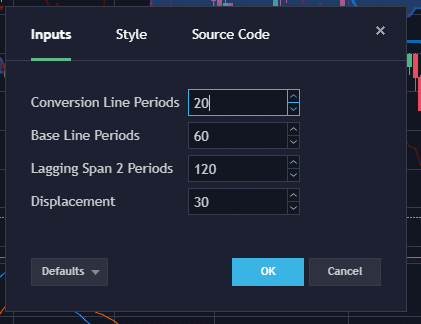 The settings in the next image are mainly for visualisation purposes and can be adjusted to fit your needs. I personally like this color scheme and it helps me see the different indicators within the ichimoku cloud a lot better.
This helps me as a ichimoku trader to find better entries and exits in the market If you want to follow along with other tutorials that I have, then I recommend that you use the same color settings for your ichimoku trading as that will help you recognise the different indicators and learn their names and meaning.
The following settings are only based on my preferences. This does not influence the calculations of the cloud.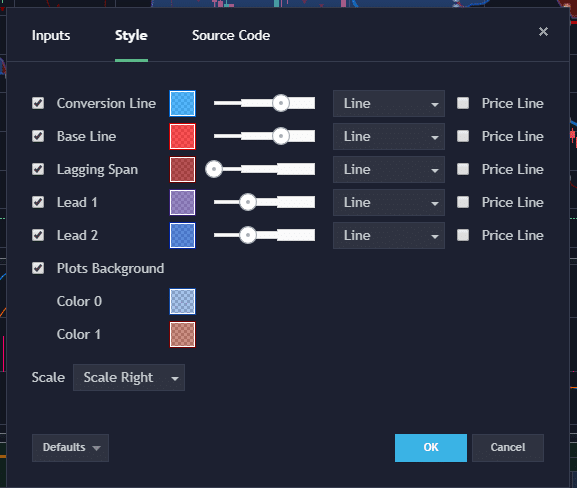 As a quick refresher here is a list to all the ichimoku cloud names in English and Japanese so that you can use those in your technical analysis.
Terminology English/Japanese
Conversion Line = Tenkan-sen
Base Line =  Kijun-sen
Lagging Span  = Chikou Span
Lead 1 = Sekkou Span A
Lead 2 = Sekkou Span B
Plots Background Color 0 = Bullish Cloud Blue
Plots Background Color 1 = Bearish Cloud red
Displacement = Chikou Span/ +SenkouSpan A
Wait! There is more…
Are you interested in learning more about the ichimoku trading strategy? Are you interested in becoming a more succesful trader and investor.
If you answer is a powerful Yes? Then you need to read these
Have a great day!