What exactly is the Metaverse?
Metaverse is becoming a popular topic these days with Facebook changing its name and focusing on the Meta. Metaverse is a broad term but it generally implies online spaces which allow people to interact in a more interactive way. This can be through the use of Virtual Reality as in virtual environments where the user is represented by a character or avatar which interacts with other users. This is definitely the next step towards the future of the internet.
What is a Play-to Earn Crypto Game?
Cryptocurrency games are basically built with blockchain technology in addition to the Non-Fungible Tokens or NFTs. An NFT is primarily a simulation of real-life objects such as art pieces, designs, and video games, etc. into the virtual world. NFTs get traded or bought by using cryptocurrency instead of fiat because that is what works in the crypto world.
NFT games are emerging as another branch of the crypto world and it's booming. Imagine the crossover of video games with the virtual world, it's just as cool as it sounds. The best part about it is the fact that the players can earn actual cryptocurrency in their wallets which can be transacted into fiat. Various forms of NFTs are present inside the game as models of assets such as the characters, land plots, machinery, costumes or weaponry, etc. There is a whole play-to-earn games list that will help you find out what works the best for your taste.
What Games Can I Play to Earn Crypto?
There are many incredible NFT games out there and two different niches of games are given below.
Blankos
Blankos Block Party is primarily a dance, tag, and race game played by the Blankos, the 3D creatures which are the main characters here.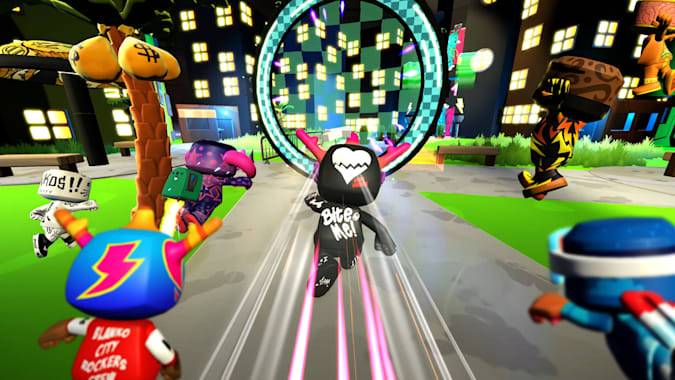 Trades can be made in marketplaces after earning playable NFTs. The graphics of this game are quite colorful, bright, and flashy. People who are into colorful patterns would love this preface.
This NFT game is made for a decent PC as it is quite intense and would run smoothly on a Gaming PC or laptop. The developers of Blankos Block Party are the same names behind some famous video games including ' World of Warcraft 'and ' Call of Duty '.
Sorare play to earn
Sorare is a different type of NFT game that is not often seen in this sphere. Mainly because NFT games are a new phenomenon as compared to conventional video games.
This is primarily a fantasy soccer-focused game in which virtual teams are build-up which has to be bought, traded, or sold by the players according to the team's performance.
Essentially, the player has to manage his virtual team by utilizing player power cards and hence enter competitions. If the participants win the competition, they get ether crypto tokens or cash as rewards.
Sorare is developed on the Ethereum blockchain and since ether is a big coin in the crypto world, this game has significant potential to rise further.
Which Game Should I Play to Earn Money?
The equation with these NFT games does not match questions like how to earn bitcoins by playing games or what is the best play to earn crypto game? This is because there is no straightforward way to answer it. Everyone has another experience with different games and what might not work out for you, could be the best thing possible thing for another individual.
This is why no specific game can be nominated as the best play-to-earn game whatsoever.
Although, the games which work out for the majority of the people have been Coin Hunt World as well as Axie Infinity. The great thing with Coin Hunt World is that it's free and almost anyone can get into playing without any investments.
Which NFT Game is Free to Play?
There's this common question on the internet about which NFT game is free to play? Coin Hunt World is the ultimate answer to this because it is one of the most appreciated free play-to-earn games out there in the NFT world.
The most interesting thing about this game is the fact that one actually scavenges for Bitcoin and Ethereum for free. Adding to that, this NFT game answers another popular question as to what play-to-earn crypto games are available for android users in 2021?
This is an application made specifically for Android users and is the best experience ever. It is somewhat inspired by the famous Pokémon-Go which everyone was mad about a few years ago. But cryptocurrency coins are collected here as opposed to fantasy creatures. This game works by using the geo-location movement on the map as the person playing the game is represented by a blue avatar which is synced with the player's movement.
The map has blue keys scattered around the area and one has to actually step outside the house to play this and collect those keys. After collecting them, the user is asked a question and if the answer is correct, Bitcoin or Ethereum coins are gifted for free!
That's the best part about this game that it does not need any kind of investment and significant crypto coins such as BTC and ETH are a part of this. People are going gaga over this game as it is making them straight up money worth 30$ to 40$ per week.
Coin Hunt World is such a dedicated platform that it does not even make a profit on its own by any means. In fact, the game is currently losing money. The developers have planned to make a profit out of it by putting thoughtful advertisements integrated into the game by charging the token teams to inform and educate the players about the world of crypto.
This is a very smart move. At the end of the day, this game basically depends on your willingness to invest your time and footsteps.
How to Play Crypto Games?
When discussing the future of cryptocurrency and NFTs on Reddit, many individuals were surprised at how can you earn bitcoins by playing games? This is where NFT games play a role not only by rewarding bitcoins but a plethora of other cryptocurrency coins as well.
Although these games do require some prerequisites to be followed in order to get started. The first step is to make a cryptocurrency wallet to store the NFTs or crypto coins depending on the blockchain currency used for developing that particular game.
These wallets have to be pre-funded to purchase straight up from the beginning of the game. Then all the starter items have to be bought such as tokens, cards for collection, vehicles, and so on. Every gameplay is different but the main purpose of any game is to collect token coins or NFTs during the game which can later be hoarded, traded, or sold by the players by analyzing the profit outcome at that point and time.
Every game has its own set of rules and incentives which enables the player to get cryptocurrency rewards which can be either transacted into money or be collected in the crypto wallet for further use.
What is Axie Infinity Play-to Earn Game?
Axie Infinity is one of the most eminent and growing NFT games out in the market and its hype is insane. Mainly because its preface is somewhat similar to Pokémon Go, which was a successful hit back in the time. Its graphics and designs are really hooking when it comes to the user experience.
In this game, players are supposed to collect Axies, the small little creatures out there among millions of them present in the Axie Universe.
The player has to keep the collection as digital pets by consistently taking care of them and then later exchanging or trading them for other Axies or even making them battle each other.
The catch here is that the player doesn't start the game with free Axies because he has to buy 3 of these fantasy creatures which can be worth 200$ to 400$. As this game is based on the Ethereum blockchain, the return on investment basically is a reward named Smooth Love Potion or SLP that can be earned with the amount of time and effort put in the game.
The SLP can in turn be exchanged into ethereum in the form of tokens using platforms such as Binance and Uniswap.
Users see the money that they put in by buying different land plots and Axies as long-term investments although that doesn't really make sense for most of the players. Players are eligible to enter the game by investing about 700$ and there are more than a million active users on this game every single day.
The return on investment that the majority of players get ranges up to 20$ every day as a single SLP token is equivalent to cents. This incentive makes people take the NFT game as an actual investment opportunity more than just a game.
What is Splinterlands Play-to Earn Game?
Splinterland is essentially a collectible card game like the old times, but only digitized into a virtual environment. This game has been developed on the Hive blockchain and the cards here are presented by individual NFTs and can be traded out in the open market as well. The game depends on battles between single players who are designated battle parameters on a random pace. The fight held between both the players is based on a reserved amount of time to collect a deck of cards which is later used to battle the other player. The card collection which is possessed by the player consists of multiple powers and stats to fight their opponents.
Is Gods Unchained the Best Free-To-Play NFT Game?
Gods Unchained is another collectible card NFT game with easy trading among players. The superb graphics and animations make the whole set-up quite interesting and interactive to play. Many features and upgrades are also available which can be purchased along the way into the game. Gods Unchained is an ethereum blockchain based game and the players verify their card decks on the basis of ethereum which is exchangeable. Players need to win matches in order to get to the cards with high ranks which they obtain from other players after their victory.
Lightnite as a Play-to earn Crypto Game
Lightnite is another battle royale-themed game that incentivizes the user by making them play for bitcoins as rewards and the penalties result in losing bitcoins. The built-in store of the game allows players to buy items with the bitcoins present in their micro wallets. Although some items can be just collected from the dead players for free as they can no longer use it.
This game contributes to the mass adoption of bitcoin as the users with no BTC in their wallets can use the Bitcoin free version in the beginning. The game is designed in a way that it lures it's players to use BTC eventually. It's evident that this NFT game is built on Bitcoin and it's transaction layer is Lightning Network. Although in order to gain a full time experience of the game, one has to get a wallet that syncs with this transaction layer.
Guild of Guardians as a Play-to Earn Crypto game
Guild of Guardians is a fantasy role-playing game where players can turn their gaming passion into assets. This is an application-based game and is hence reachable to the masses.
Resources are earned by collecting team members and completing the stages in order to win rewards. Players build their dream team of guardians and compete in a guild to earn epic tradable rewards. By collecting resources, players can craft valuable in-game items and new heroes to sell for fiat money.
The play-to-earn model of blockchain gaming is gaining more momentum, as it helps empower players unlike ever before. Rather than opting for a single-player game, Guild of Guardians is all about building communities or guilds.
For players, guilds are a way to contribute to the overall progress of their community. Additionally, collaboration is required to create the best squad of 'guardians' and to tackle the in-game content, which becomes more challenging as players progress further.
Gems, the in-game currency, can be earned and traded with other players, adding an extra incentive layer to playing the game. Through its partnership with Guardians Corporation, it is reportedly the first mobile game developer to make an in-game currency tradable. Players can also earn heroes and items without spending any money. This NFT game doesn't decide wins by investing a lot of money. It is designed in a way to ensure that skill and strategy are the core elements of the game. In addition to that, the game is not focused on Player Vs Player or PVP. This game is developed on the Ethereum blockchain.
Conclusion
NFT games are considered to be the future of virtual gaming with a fortune of cryptocurrency influx and efficiency in investment. Although it might be too early to predict a lot of changes that this might bring, gaining knowledge about this universe and educating yourself would not go in vain. People are already making hundreds of dollars with these games and are so sure about if that they have even left their jobs. But on the other side, keeping the reality factor alive in life helps analyze and reflect on the world we are currently living in and the world we are moving towards.