What is the Radix Blockchain?
Radix is a layer one distributed ledger technology (DLT) that explicitly addresses DeFi related problems. In other words, Radix is a blockchain platform where developers will be able to build decentralized applications (dApps) for DeFi efficiently without worrying about exploitation and scale them at ease.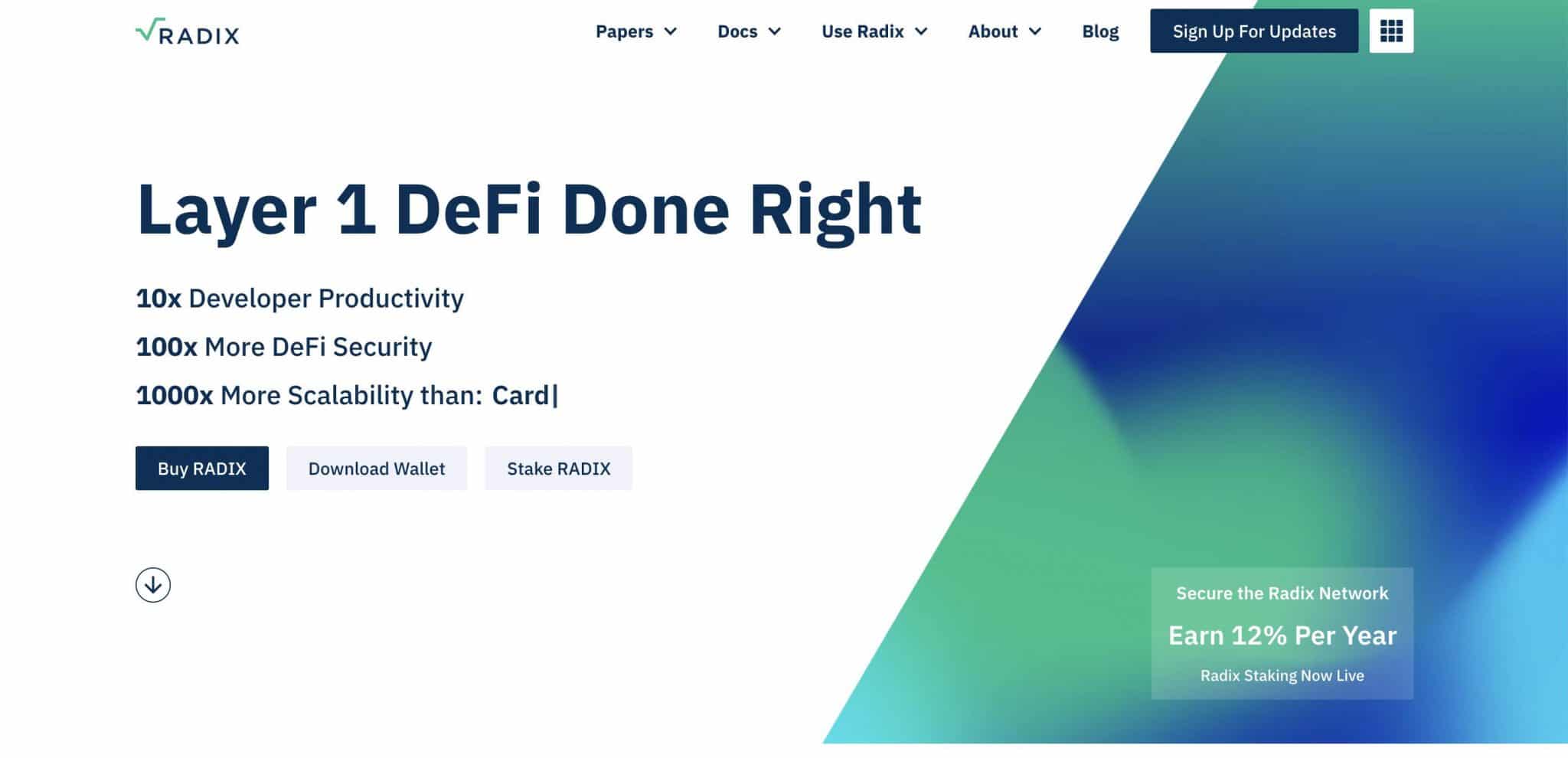 With their vision, Radix Network intends to provide a platform for DeFi to present itself as a viable alternative to traditional finance (TradFi).  
Why is the Radix Blockchain significant for DeFi?
DeFi, as a concept, has a vast potential to transform how the world operates today. It provides an alternative to the TradFi system and eliminates middleman costs. Users frustrated with TradFi, rally behind DeFi because of its potential in becoming a revolutionary force in the future of finance. However, due to several limitations, today's DeFi apps cannot achieve this transformation. DeFi, therefore, faces a real threat of not being able to reach its full potential to challenge TradFi and be adopted by the mainstream.
The Radix Network puts forward a comprehensive solution to the problems faced by DeFi. As a permissionless DLT focusing on DeFi growth, Radix defines the bottlenecks faced by the DeFi developers that presently hinder their growth and outlines four Radix layers that specifically address each of the problems. How Radix seeks to solve the issues of scalability, exploitation and efficiency are explained below:
Scale dApps without breaking composability: If our aspiration is for DeFi to go mainstream, the most prominent and overlooked problem is its inability to scale without compromising DeFi's interoperability. Radix proposes to resolve this with their unique consensus algorithm called 'Cerebus.' Using a concept known as 'pre-sharding' and by implementing a three-braid consensus process, Cerebus seeks to enable large networks to run their transactions simultaneously while maintaining their composability.

 
Avoid smart contract hacks and exploits: We have heard this too often. Unfortunately, many projects with a good growth outlook are constantly subject to exploits and hacks and lose their funds. This threat cannot be taken lightly, as it drives DeFi users away, no matter how innovative the proposed DeFi solution is.

 
Radix solves the issue by building its components from finite state machine logic, closely modeling real-world finance expectations. This way, the members behave like physical assets, and the creators can directly set their definition and rules for the specific transaction in creating the final output. 
Build interoperable DeFi faster: Radix proposes 'Component Catalog,' which are similar to templates a creator could use to create multiple Components. The developers do not have to make the standard functionalities using the template, which helps develop dApps faster and more efficiently.

 
Incentivize a decentralized developer community: Radix team believes that a thriving ecosystem is indispensable for creating the aspired interoperable Components. Therefore, the platform will incentivize the community by providing 'Developer Royalties' for developing Components. The developer will specify royalty in RADIX tokens for each component's usage.

 
Who is behind the Radix Blockchain?
Several dedicated and highly skilled individuals are behind the Radix project and its vision. Dan Hughes is the founder of Radix DLT and has spent several years specializing in software and technology development before the blockchain industry was born. Dan Hudges says, "Bitcoin is a great first step, but is not without flaws. After a period of investigation, I decided to attempt to develop a complete solution. Thus I started the Radix project."
Dan Hughes is supported by a vibrant team, including the CEO, Piers Ridyard, an all-rounder skilled in management, business development, finance, venture capital, and private equity. He also identifies himself as a strong business development professional with a Bachelor of Laws (LLB), a Bachelor in Chinese and Business. In addition, he has achieved the Chartered Financial Analyst (CFA) exam, Level 1 (Source: Linkedin). 
Also in the team are Russel Harvey (CTO), Adam Simmons (CSO), Andrew Jarrett, and James Cunningham-Davies (Directors).  
What smart money apps is Radix building?
As a layer 1 platform, Radix facilitates developers to build dApps on their network by removing several bottlenecks for DeFi growth. With their upcoming launches in 2022-2023, widespread adoption of Radix by the DeFi developers seems inevitable. The Radix team has several community projects in the pipeline (possibly including a mobile wallet). The Radix Wallet supporting several Desktop OS is already in use.
What does the Radix Roadmap look like?
The Olympia Mainnet went live in 2021, and the team has several major events planned for the next two years to escalate DeFi growth. Their upcoming launch, Alexandria, is scheduled for 15 December 2021. Alexandria intends to help developers experiment with building DeFi concepts with their new programming language 'Scrypto.'  
In 2022, the team plans to launch Babylon. Babylon will be a mainnet update allowing developers to create their DeFi dApps and introduce developer royalties. Xi'an is scheduled to be launched in 2023 and will help DeFi reach unlimited scalability using the Cerebus algorithm.
Why is the Olympia mainnet important?
The launch of the Olympia mainnet laid the perfect foundation for Radix Network's vision. Olympia is packed with several core components. 
The Radix Node software implements the core Radix protocol. Radix Engine V1 (similar to the Ethereum virtual machine) tests the security and reliability of the environment. Radix Wallet, a part of the mainnet release, features easy in-wallet delegated staking, is compatible with any token issued on the Radix network, and is available for Windows, macOS, and Linux.
Olympia also introduced the creation and staking of tokens on the network using the Radix wallet. In addition, the Cerebus consensus algorithm features a minimum throughput of 50 transactions per second which will further improve in future releases. Ethereum can currently handle around 30 transactions per second to put things into perspective.
With the mainnet launch, the team has delivered on its promise, and the users now have new expectations for the project's upcoming launches in 2022 and 2023.
What is the purpose behind the XRD token?
XRD is the native token of the Radix mainnet. XRD has a maximum supply of 24 billion tokens and is used for transaction fees. Its staking via Proof of Stake (PoS) helps secure the network while the users earn rewards for staking their tokens. More importantly, XRD tokens will be used for their innovative 'Developer Royalties' concept. So the Component developers will also be awarded XRD tokens each time their 'templates' are used.
What is the difference between XRD and eXRD?
eXRD was introduced to decentralize the network further; exrd is the wrapped version of XRD available on Ethereum. eXRD's function is to act as a bridge between Ethereum and Radix platforms. eXRD is backed by XRD in a ratio of 1:1 and is exchangeable in the same manner.  
What is the best wallet for Radix eXRD?
eXRD is an ERC-20 token. In addition to the Radix wallet, eXRD is compatible with any Ethereum compatible wallet, including Ledger Nano X and S, Metamask, Trust Wallet, and Trezor One.
How does Radix staking work?
You can stake your XRD with a minimum number of tokens set at 100. Then, all you have to do is to download the Radix wallet (compatible with Windows, Linux, macOS platforms), bring your XRD tokens to the wallet, and finally choose the validator nodes to delegate the stake. This is all it takes to earn 'emission' rewards from staking XRD tokens. However, according to the Radix Team, you need to be careful in choosing which validator nodes to stake your XRD "as staking to a low-performance node may lead to reduced or no emissions rewards." See https://learn.radixdlt.com/article/how-should-i-choose-validators-to-stake-to for more instructions on staking your XRD.
How do I get Radix eXRD?
eXRD is available on decentralized exchanges such as Uniswap, 0x Protocol, and several centralized exchanges, including KuCoin, Gate IO, MEXC, and AscendEx. KuCoin has the highest trading volume of eXRD tokens accounting for nearly 52%.
How do I get Radix XRD?
XRD token is available in Bitfinex exchange in both USDT and BTC trading pairs.
What is the best Radix XRD price prediction?
XRD has been in the exchanges for less than a year and reached its all-time high (ATH) of 0.65 in November 2021, which is nearly eight times from its lows. At the time of writing, XRD is trading at 0.256. When looking at tokenomics, its current market cap is around 3 billion making it a mid-cap cryptocurrency, with a circulating supply of 12,109,923,805 XRD coins. 
However, from a fundamental perspective, the token has a remarkable growth potential from its current price, considering the project's ambitious plans, especially the anticipated launches of Alexandria in December 2021 and the mainnet update, Babylon, in 2022. Therefore, the XRD token value in the higher time frame (HTF) could reach $1 or possibly more. 
From a technical perspective, the token can test support at $0.17 and move sideways before heading higher in the future. (Having said that, we remind you not to rely solely on price predictions and encourage you to make an informed buying decision).