Thinking about investing in cryptocurrencies? Well, the best way to start it would be by investing in ICOs. But finding good resources of ICOs online is really tough. Not all the mainstreams cover it and the worst part is that most of them are inaccurate. So, what can you really do in this situation?
Well, don't worry, I have put together a list of ICO resources that will help you keep track of all the phenomenon happening in the ICO world.

Ambisafe is a great platform for creating blockchain based digital assets. You can issue one in just minutes and then add it to cryptocurrency exchanges worldwide.
Their blog posts also cover different topics related to ICOs.

Want to know about the best ICO investments in the market? Go to ListICO, where you'll get all the information you need regarding latest ICO projects.

If you want to know anything about cryptocurrencies or ICOs then Bitcoin Talk forum should be number one on your list. It usually covers Bitcoins but you'll get news regarding alternate cryptocurrencies too!

One of the best fundraising platform on the market. Viewing top rated, active and ongoing projects on ICO has never been easier.

They are well known for their blockchain technology research. They provide open forums surrounding ICO. Can be a great helping hand in this line of investment.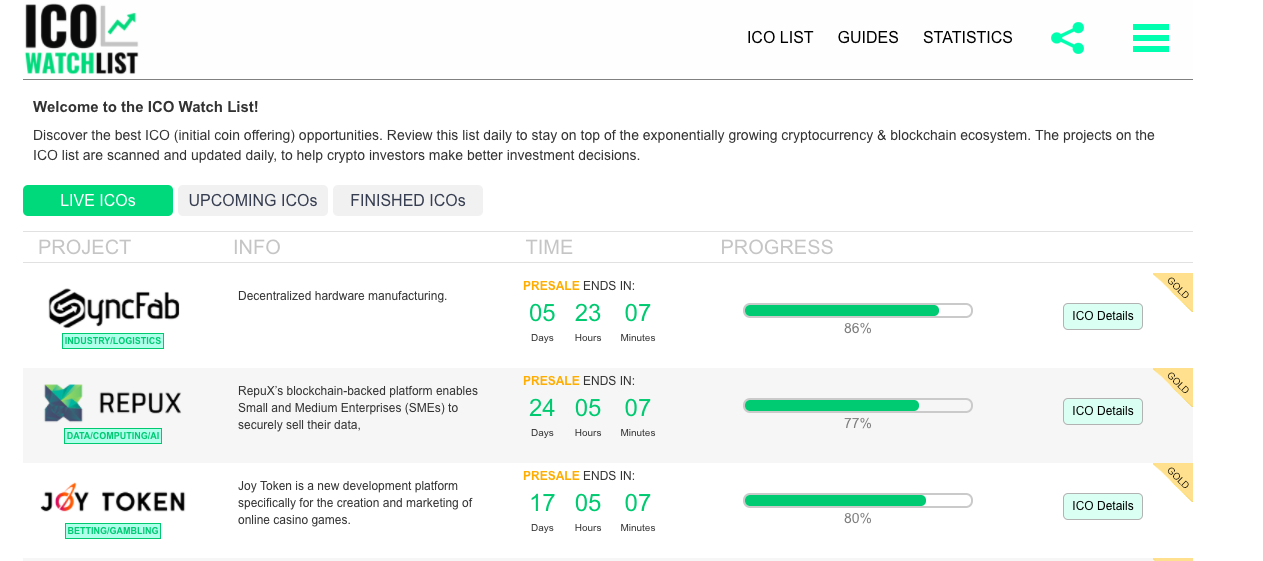 A reliable source for tokens and ICO projects. They are always updated with the latest news and listing.

This website covers a listing of ongoing and current ICO crowdfunding projects. All the projects have detailed information regarding why they are best and worth the investment. And it only lists projects that are worth investing.

ICO Alert covers token sales, generation projects, crowdsales and active ICO projects. They host interviews with the best of the best founders in the blockchain space, sharing a great level of insight.
With CryptoCompare you will be able to monitor all crypto markets in real time. This website also lets you discuss the latest trends in ICO.
Covering hot and trending ICOs, ICO Bench has earned its name for its reliable resources. Their bot "Benchy" always monitors the ICOs and rates them, giving you an updated list every day.
A great blog site for interactive discussions about the latest ICOs. Best platform for building relationships among crypto users.

ICObazaar is one of the best platforms for ICO research. Every list is updated with the help of blockchain industry experts, giving you the accurate results every time.

Get to know about the active crowdsales from CyberFund. This website offers a list of ongoing or upcoming ICO projects along with other investment possibilities.
Don't know which altcoin to invest in? CoinGecko will make things easier for you. They will provide you with all the necessary information regarding altcoins and ICOs.

If you want to evaluate a company planning an ICO then you must check out ICO Rating. All of their comparisons are spot on and their reviews are a reliable resource for ICO.
ICO Tracker is another great website that will help you know all about the active ICOs. So, tracking them will be easier than ever.

Best marketplace for blockchain based investing, powered by tokens. They offer a safe platform for you to invest in tokenized ICOs.

Smith + Crown is popular for closing the gap between ICOs and crypto investors. They provide a list of crowdsales, token sales and of course ICO projects.