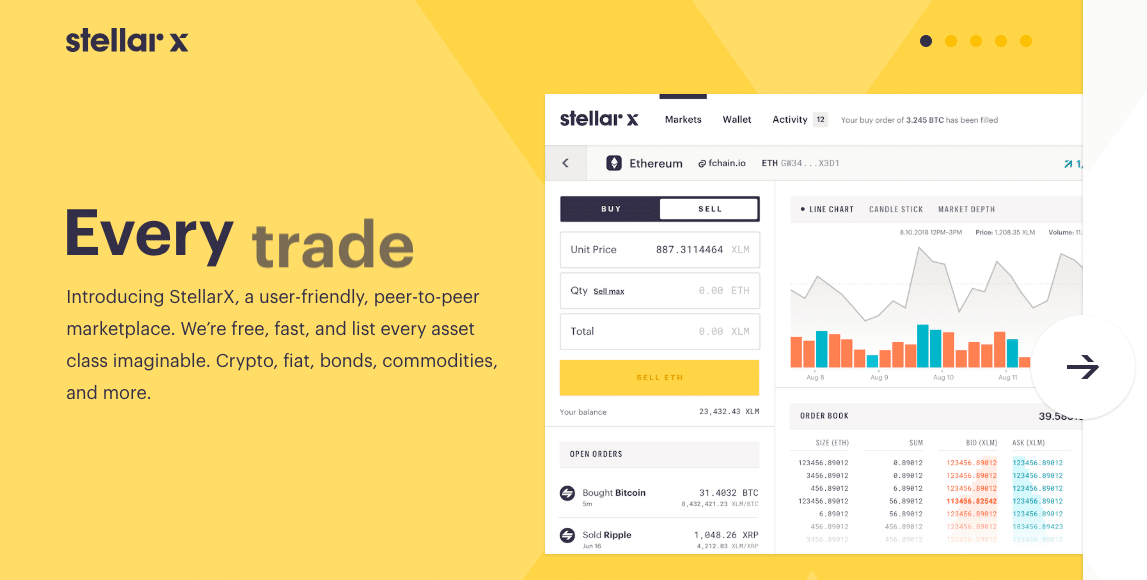 P2P Feeless Marketplace. How exciting is that?
StellarX Just launched. I'm pretty exited about it. It is a user-friendly, peer-to-peer marketplace that lists every asset class. Crypto, fiat, bonds and commodities.
I can't wait to try it out. A comprehensible review will be done as soon as possible.
You can read the whole post on Medium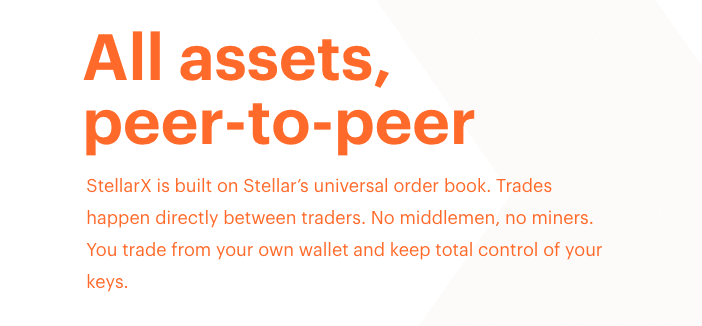 StellarX Trading Platform is completely free.
How is that even possible? Yet, apparently they somehow manage to make it work. Other decentralised platform such as Robinhood, profits from the users idle funds. Users on other decentralised exchanges such as IDEX have to pay gas for trades. That is quite expensive for larger trades.
StellarX will not cost a dime, no fees and they want to refund all network costs. No other exchange does that at the moment.
Is this to good to be true? Let's see how this will work out.
A wide variety of available trading commodities - Trade Anything
You can deposit USD if you have an U.S bank account.  They are working on integrating more fiat currencies as soon as all regulatory agreements have been met. This will hopefully allow many more users to use StellarX as a local exchange where none exists at the moment.
At the moment BTC, ETH and a few other top players are available to trade.
StellarX - X stands for Anything. Anyone, Anywere
They have big plans for the future of bonds, stocks, real estate and commodities trading. Even though these take a lot of time to digitise, this is the end goal of the platform.
In the next stellarx post, I will dive into the usablility of the platform and compare it to other popular p2p exchanges. Stellarx is aiming for the stars. Let's see if they manage to deliver on their promises in the upcoming months.
Features coming soon to StellarX
Night mode
A mobile site, for great justice
Continued improvement to signup, onboarding, and visual design
Improved token stats and info
Portfolio performance reporting & summaries
Improved charting library
Fungible path-payment support (i.e. allowing a sender to send token A and specify that the recipient receives it as token B)
A market maker rewards program
Multi-sig support
SEP 0007 support for airdrops, etc.
Non-XLM markets support
In-app deposit/withdrawal support for all tokens via SEP 0006
Self-serve platform for issuers to submit more token detail
Bitcoin.tax support for Stellar trades